Lessons from a Pandemic II: Shorten the food chain
If you had told us two months ago that our kids would be super involved in the farm we would have been surprised (see last blog post) but here we are working side by side! If you had told us that we would be reliant more on individuals and less on distributors, restaurants and institutions for our business we would have also been surprised! Yet here we are, seven weeks into a global pandemic which caused all schools and restaurants to cease operations. When the social distancing order went into effect in mid-March we lost 50% of our sales overnight as our distributors' orders ground to a halt. Much of our focus for growth over the last few years has been through distributors: companies that purchase cheese in large quantities and distribute out to stores, restaurants and institutions. Many farmstead cheesemakers like ourselves follow this path, as there is only so much time in the day when you are making hay, raising and milking animals, making a product and doing the books for your business. "Farmstead" cheese means cheese from one herd, and oftentimes that herd is located on the farm where the cheese is made, though not necessarily (future blog idea: labels and what they mean). Anyway, it's a lot and distributors are our partners and key to sustainability.
Enter Corona and the shut down and we don't have a choice, it's time to pivot our business. We can't furlough the goats or the cows and bring them back in a month! It's spring, and the milk is flowing. If we are to survive we need to adapt. Fortunately, we make a hard cheese with our goat's milk which is incredible shelf-stable: La Luna.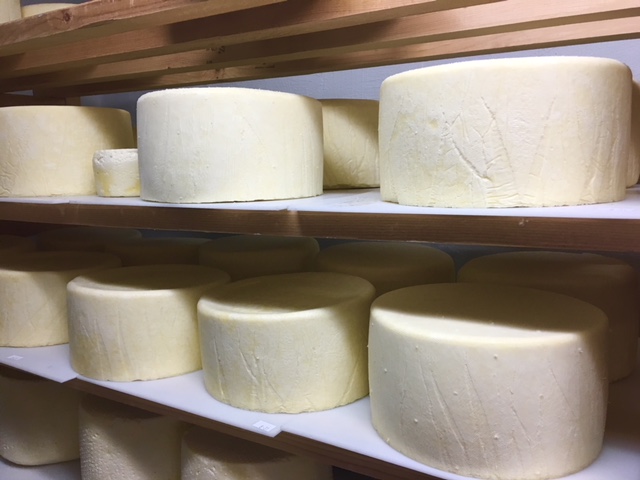 We began making La Luna as a way to take an abundance of spring milk and "store" it so we had cheese to sell in the winter months. Time to pivot productions and nearly all of the goat's milk we made in March went into La Luna, Greg estimates over 300 wheels made between mid-March and now! The cow's milk keeps flowing at Mose Farm, too, and we want to keep Seth and Monika and their beautiful Ayrshire cows going, so Greg invents a hard cow's milk Gouda-style cheese which is similar to our La Luna but pure cow's milk. We can't wait to try this cheese in a couple of months! We will name this little leap of faith cheese "Moosalamoo" after a local mountainous region. Our aging room which houses fresh and mold-ripenened cheeses is looking pretty empty after a couple weeks of this:
Besides production, the other way we pivoted is in how we market out cheese. Our web designers at Eternity Web helped bolster our online site and with some social media updates, the orders began pouring in. Very grateful that we already had this infrastructure in place. Almost overnight we went from two orders a week to thirty or more! These orders essentially filled the gaps left by distributors and restaurants! We never could have predicted a success like this.
We created a streamlined system and now can ship 25 orders at a time without too much strain.
We are so very grateful for the support of family, friends, and fellow cheese lovers from near and far who have bolstered our spirits and emptied our cheese supply throughout this challenge! We realize that we absolutely love selling direct to folks! We have worked on ways to create those "magical moments" so during these times of isolation folks can receive a carefully packed cheese package straight from our farm and feel our appreciation. The feedback we have received has kept us going.
We also have discovered other direct retail options: wild kale, an online farmers market, and Mable, a site where retailers can purchase directly from producers, as well as Green Mountain Farm Direct and Myers Produce. Our little farm was featured on the local news for our response to this crisis and you can watch that here. We are also entering back into the world of farmer's markets via a local online option in Middlebury and Bristol!
Our tiny farmstand has been a lot of fun, and has given us a chance to say hi from a distance and also move quite a bit of cheese to our local community! Sporting gloves and social distancing, our friends sent evidence via this photo that they were customers on opening day:
World's smallest farmstand? It does the trick.
Lots of folks say that the pandemic took the food industry somewhere in five days what would normally have taken five years; that the market was headed towards more direct-to-consumer sales, a pandemic just hastened the evolution. Had we not had the necessity to pivot our business would we have taken the time to develop these new markets? Maybe not, which would have been too bad as they ultimately have made our business stronger and our experience as a food producer more rewarding! There's no question distributors will still play a huge role in the sustainability of small farms like ours and we will eventually welcome our restaurant businesses back with open arms! Now in May we already see increased wholesale orders and a returning to "normal", but we won't drop our local and direct approach as it has brought us so much joy during what is probably the greatest challenge that many businesses will face in a generation. Our direct sales have reminded us why we got into this business: the joy and community that comes from sharing good, ethically-produced food and sustenance with others!
Future blog idea: As we witness the fragility of our food system across the nation with supply chains interrupted and large slaughter facilities on the brink of closure, the truth seems undeniable that a shorter food chain is a more reliable food chain. When we can rely on hundreds of thousands of smaller food producers with a diversity of food infrastructure, largely locally-based, will our food source be more secure? If anything, this crisis has revealed the vulnerabilities of large, globalized and nationalized systems and perhaps we should trust and rely more on our local, independent markets for our food supply. Shorten the chain and know your producers.
Next Blog Post
Lessons we have learned when facing a pandemic and crashing economy