Sustainable Farming Practices at Blue Ledge
Order Direct From Blue Ledge Farm
Sustainable Farming Practices at Blue Ledge
Order Direct From Blue Ledge Farm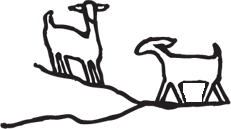 Blue Ledge Farm
Established in 2000 we are a first generation, family owned and run goat dairy and cheese-making operation. Our mission is to create a high quality product built on the cornerstones of respect for consumers, land and animals as well as our local community.
What's Happening on the Farm
The Only Thing I Know, a poem by Greg Bernhardt fitting for some amazing aerial drone photos taken by local photographer Caleb Kenna this fall.
Part time goat milker/herdsperson needed. Starting mid-January 2020, looking for an individual to live on the farm and milk and help care for our herd of 150 milking goats. Full time work can be attained if needed, by adding some hours in cheesehouse.
Instagram